The art of textile printing at Leografic is the result of tradition, talent, and innovation.
Our experience of over 50 years is reflected in the quality and style that have made us a leader in both screen and digital textile printing.
We treat and customize any type of fabric, from natural to synthetic fibers, in both monochrome and polychrome, using the most advanced techniques such as lamination, inflatable, transfer, flock, spraying, sublimation, corrosion, and more.
Thanks to our established quality of workmanship and attention to detail, we are one of the main references in Italy for textile printing in the fashion industry, and we collaborate, directly or on behalf of third parties, with the most important national and international high fashion brands.
At Leografic S.R.L., we are making significant progress towards greater sustainability and reduced environmental impact.
A key element of this transformation is the prestigious GOTS (Global Organic Textile Standard) certification, which demonstrates our tangible commitment to ecological production.
GOTS certification enables us to offer textile prints made exclusively from organic raw materials, creating common ground with our customers and working together responsibly to preserve the environment.
GOTS certification is a tangible symbol of our commitment to sustainable production, aligned with our customers' needs and our shared responsibility to the environment.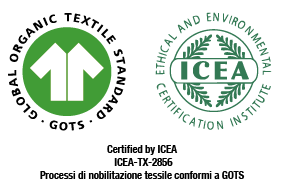 SCREEN PRINTING
Screen printing is an ancient art that dates back to the Phoenicians and has evolved and improved over time. It is a textile printing technique that can be combined with various types of processes to achieve a unique result in terms of colour, texture and brilliance.
One of its main characteristics is its durability and resistance to the various stresses of its applications. Brilliance and colour intensity blend together to enhance the product, whether applied to light or dark substrates.
Screen printing allows large quantities to be produced with highly competitive turnaround times and costs. It can be applied to any type of fabric, making it a versatile choice for a wide range of applications.
DIRECT DIGITAL TEXTILE PRINTING
Direct digital printing uses special printers and inks to print designs and patterns directly onto the fabric, eliminating the need for physical screens. The results are photographic, with extremely high definition, vibrant colours and smooth gradients.
Direct to textile digital printing is a technique that combines speed, flexibility and productivity thanks to the latest technologies. It enables efficient production without the need for complex set-up processes.
DIGITAL TRANSFER PRINTING
Digital transfer printing can be applied to all types of fabric, both natural and synthetic, and works on both light and dark backgrounds without the need for complex set-up processes. A printed and shaped polyurethane transfer is heat pressed onto the fabric.
By printing the transfer on a roll, it can be produced in different sizes, in infinite colours and in different types. This textile printing technique can be used either as a stand-alone print or as an enhancement to other prints, highlighting specific details.
The strength of digital transfer printing lies in the versatility of printable substrates, the variety of finishing techniques, the finishes that can be achieved and the fact that it can be applied to both light and coloured backgrounds.
SUBLIMATION PRINTING
Sublimation printing is a chemical process that involves the direct transition from a solid state to a gaseous state to transfer color onto fabrics. The design is first printed onto paper, and then through heat, the sublimation ink transforms into a gas and bonds with the receiving surface.
The ink, in the form of gas, easily penetrates the fibers and securely bonds to them. The final result allows for a smooth surface without any raised texture, preserving the original structure of the material.
This textile printing technique can only be performed on white polyester fabrics.
TEXTILE PRINTING WITH FOIL
Textile printing with foil is renowned for its exquisite enhancement. In this technique, metallic foil is applied to a substrate by heat transfer, resulting in stunning lamination effects and a range of finishes from gloss to matt.
The use of metallic inks enhances the sophistication and lustre of the process, while specially formulated adhesives create a delightful visual and tactile dimension with raised elements.
DEVORÉ TEXTILE PRINTING
Devoré printing (French for "devoured") involves "burning" the natural fibres in a fabric while leaving the synthetic fibres intact. This technique can only be applied to fabrics with a mixed composition of synthetic and natural fibres.
Devoré printing creates a unique and natural effect by altering the fabric itself.
PUFF PRINTING
Puff printing involves the incorporation of additives into the ink which expand as it dries to create a raised, three-dimensional effect. This technique adds depth and texture to the printed design, making it visually appealing and tactile.
Puff printing can be used as a stand-alone print or as an enhancement to other prints to make a particular element of a project stand out.
GLITTER PRINTING
Glitter printing enhances and adds value to the finished product through a process that adds sparkle and lustre to the treated surfaces. Glitters are supplied in various sizes, shapes and colours and when mixed with ink they create a sparkling effect that enhances the print depending on the desired result. The choice of glitter size and shape is determined by the specific design to be created.
FLOCK PRINTING
Flock printing is a process that imparts a raised and velvety effect by transferring tiny polyester fibers onto the printing area. This technique is achieved through the use of heat and a specific adhesive that securely holds the flock in place. It can be used as a monochromatic print or as an enhancement to highlight specific details in other prints. Flock can be produced in both opaque and iridescent colors.
CORRODED PRINTING
Corroded printing is a chemical process applied to fabrics dyed with corroding pigments. The process involves the application of a corrosive agent mixed with the base colour, resulting in a unique weathered effect. This technique is particularly effective on dark backgrounds, where rich and vibrant colours can be achieved while preserving the texture of the fabric.
TEXTILE PRINTING TECHNIQUES:
VERSATILITY, INNOVATION AND CREATIVITY.
Textile printing techniques are varoius, each with its own characteristics and limitations. However, by combining different techniques, excellent and personalised results can be achieved.
The choice of textile printing techniques is based on the specific requirements of the project, as there is no 'one size fits all' technique. The choice depends on factors such as the type of fabric, the design to be printed and the desired end result.
For example, digital textile printing can produce high-resolution designs with a wide range of colours, but cannot always produce special effects such as glitter or embossing. In such cases, other techniques can be used, such as screen printing, to add these effects to the design. That's why at Leografic we have always embraced both the screen and digital printing worlds, allowing us to offer concrete and innovative solutions to meet our customers' need of our clients.